Shopping Cart
Your Cart is Empty
There was an error with PayPal
Click here to try again
Thank you for your business!
You should be receiving an order confirmation from Paypal shortly.
Exit Shopping Cart
Create~link writers' Post Network Blog
| | |
| --- | --- |
| Posted on July 22, 2014 at 10:57 PM | |
Terrorist State: The Unnecessary Killing
Of Palestinian Civilians by Israel
Photo_telegraph.co.uk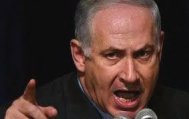 & Israeli Prime Warmonger Benjamin Netanyahu
It is nearly impossible to find more than a handful of people in the media or in politics in this country who would dare to speak the truth about the atrocity that is being perpetuated in Palestine by the State of Israel, more specifically by Israel Prime Minister Benjamin Netanyahu. There is great fear over the town on this issue. The media is lazy, ignorant, and cowardly repeat whatever verbiage a politician chooses to spew about the Israeli Palestinian conflict. A look at the trend, more like a tradition when it comes to this debate, suggests that jobs, career, elections, status, and reputation may be at risk for walking outside the "the Israeli people's security is being threatened and Hama is a terrorist organization line." But even worse, there is always the potential of being called anti-Semitic and getting blacklisted just for refusing to go with the war hawks. However, it would be absurd and an offense to those who suffer the pain and injury of anti-Semitism to treat critiques of Israel's inhuman policy in the West Bank and Gaza, where people are starving and dying unnecessarily, as enemies of Israel. After all, Moses said to the Pharaoh, "Let my people go!" But nowhere do find him say, let my people go so they can oppress and terrorize their neighbor. The partitioning of the land by the British in 1942 to create the state of Israel notwithstanding, the Jews did arrive in Palestine from Egypt. Therefore, they were bound to have them as neighbors and it was up to Israel to nurture that relationship. We will never know how things might have gone, will we, had the Israelis not thought that somehow they were the chosen people? The only people that God, as the creator, an entity from which all things derive and which created men at its own image, decided to make [the Israelis] the chosen ones! The American media and politicians must decide between their friendship for Israel and their conscience. It would make some sense if they were to work in the pursuit of strengthening both.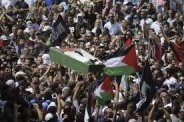 For over 40 years, Israel has occupied the West Bank and Gaza. During that time, the conflict between the Israelis and Arabs has seen a war in 1947, 1948, 1967, 2000, 2006, 2008, 2012, and now in 2014. In reality, not including the 1947 and 1967 wars, which involved Arab fighters and Army from the Greater Middle East, including Syria and Egypt, what the world has witnessed, time and time again, has been an unleashing of some of the most lethal weapons of war by the Israelis against rock-throwing Palestinians, for the most part, youths. Israel shamelessly engages in wholesale mass-assassination of civilians on a notion that the Palestinians reject Israel's right to exist and that the Palestinian leadership consistently sends rockets raining down into Israel. In effect, whether it is Hamas now or Fatah in the West Bank or the PLO (Palestinian Liberation Organization) under Yasser Arafat, the chairman of the PLO, the Palestinians can hardly shoot straight. Most of their so-called missiles routinely land in deserted area, and for every 200 to 500 missiles they fire, one or two might land in an Israeli neighborhood. That does not make the killing or maiming of any civilian right, but for every Israeli casualty, the Palestinians burry 200 to 500 of their children, wives, fathers, sisters, brothers, cousins, and uncles. That is what asymmetry and lopsidedness are all about. Some call this type of heavy-handedness overkill, while others would refer to it as criminal.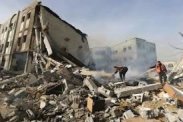 Time and time again, the Israeli government lies to the world about "targeted operation," when in fact, those international reporters who risk their lives to cover the real massacre in the occupied territories witness apartment buildings, schools, hospitals, and mosques in crowded residential areas being demolished, and women and children running for their lives and cut down by Israeli rockets, armored tanks, and battle ship artilleries, supported by bombs dropping  overhead by gunship helicopters and fighter jets. And the world has become so used or perhaps resigned to these images that the statistics of 131 dead Israeli children for 1,161 Palestinian children plus 1,134 Israeli adults for 7,428 dead Palestinian adults in 2000 have resulted in the death of disgust, outrage, and condemnation.
The West Bank, including 
East Jerusalem
, has a land area of 5,640 km and 220 km on the northwest quarter of the Dead Sea. It has an estimated population of 2,676,740.More than 80%, about 2,100,000
of the population are
Palestinian
 Arabs. The Gaza Strip is 139 square mile, about 360 km2, with 1, 7000,000 inhabitants, most of whom live in a very dense area in Gaza City. 40% of Palestinians are under the age of 14 and more than 70% are under the age of 35. Last week, international journalists witnessed the dreadful situation of children playing on the beach as Israeli gunships fired shells killing four boys, around the ages of 7 to 9.The practice of collective punishment is criminal and insane in a world that should, at this time, be striving for some level of civilization. Certainly, the Israeli's hands are strengthened by their partner in crime, the United States of America. According to Washington Report on Middle East Affairs, between 1949 and 1997 the United States aid to Israel amounted to $84,854,827. Journalistsresource.org tallied "the Bush administration aid to Israel in 2007 to have been a 10-year, $30 billion military aid package that raises Israel's annual FMF grant from $2.55 billion to $3.1 billion. In 2010, "The United States and Israel announced that Israel will purchase 19 F-35s, the fifth generation stealth aircraft considered to be the most technologically advanced fighter jet ever made, at a cost of $2.75 billion. They will be paid for entirely using FMF grants…. As part of the F-35 deal, the United States agreed to make reciprocal purchases of equipment from Israel's defense industries estimated at $4 billion." In 2012 Israel's portion of the total FMF account of the U.S. was 60%.
Time and time again, Israel has engaged in massive destruction of the Palestinian homeland, through an immoral collective punishment policy. In August 2008, Israel and the United States officially signed a 'project agreement' to co-develop the David's Sling system. David's Sling, also known as Magic Wand, is a short/medium-range system designed to counter long-range rockets and slower-flying cruise missiles fired at ranges from 40 km to 300 km. As President Obama proudly stated in a press conference from the South Loan this week on the current Israeli invasion into Gaza, The United States has provided Israel with "The Iron Dome," a missile defense system, which has been increase to a total of nine in order to protect Greater Israel. The fiscal year 2013 budget request "included $3.1 billion in Foreign Military Financing [FMF] for Israel and $15 million for refugee resettlement. And the U.S. Department of Defense budget for 2013 included $99.8 million in joint U.S.-Israeli co-development for missile defense.
On Thursday June 12, 2014, Israelis teenage students Yeshiva Gil-Ad Shaer, 16, Eyal Yifrah, 19, and Naftali Fraenkel
, 
16 were kidnapped late at night from a hitchhiking point in Gush Etzion. The bodies of the three teens were found in a shallow grave in an open field in the village of Halhul, and they were buried side by side in the presence of a crowd estimated in press report as tens of thousands mourners who arrived in large convoys of buses to attend the ceremony in the Israeli town of Modiin in central Israel. In a revenge killing, three Jewish Israelis abducted and murdered a 16 year old Palestinian teenager
Mohammed Abu Khdeir
, outside his house in Shuafat in East Jerusalem on July 2, and Israeli police beat up unconscious a 16 year old American boy who was spending vacation time with his relative in East Jerusalem.
Following the teens' death, the government of Israel blamed the leadership of the Palestinian in the West Bank, Hamas, for the tragedy, and  the United government asserted Tuesday that it has "strong evidence" that Hamas was responsible, "culpable" for the kidnapping and the killing of three Israeli teenagers. The problem with those positions is that no one has put forth any evidence of such, and Hamas which typically claims responsibility for such their action, denied any involvement in the kidnapping and the killing of the innocent youths. Since then, Israel has invaded Gaza and killed over 600 and injured thousands, almost half of those are children and women, and in the process destroying homes, schools, and hospitals, by the dozens.
The truth is that the United States government, which claims Israel as "its closest ally" in the Middle East, has lost all credibility in terms of representing an honest broker in the conflict between Israel and the Palestinians. Even in cases where Israel blatantly crosses the line and engages in what any objective observer would characterize as aggression and over the top military intervention, and war crime for massive killings of thousands of Palestinian civilians, the U.S. always found one way or another to defend Israel. In fact, any statement by the United States relating to the murder of Palestinians in the occupied territories is almost always prefaced or preceded by some lame justification that Israel has a right to defend its people and territory. Yes, not just Israel, every country has the right to defend its sovereignty and its population. We could name dozens of cases where the United States thought just the opposite. The point remains that no country has the right to occupy, terrorize, oppress, and kill another country's citizens and inhabitants at will, which has been the case in the Israeli Palestinian conflict. The idea that Israel goes on rampages and willfully and recklessly destroys hundreds and of Palestinian homes and killing hundreds and injuring thousands of women, children, and non-combatant men in Gaza is the stuff that genocide is made of.
International humanitarian law prohibits [an] occupying power [from transferring] citizens from its own territory to the occupied territory (Fourth Geneva Convention, article 49). The Hague Regulations prohibit the occupying power [from undertaking] permanent changes in the occupied area, unless these are due to military needs in the narrow sense of the term, or unless they are undertaken for the benefit of the local population.
Speaking on American Sunday Network TV this past weekend, Prime Minister Netanyahu had the nerve to," call the nation of Israel to prayer & fasting during this Gaza war." "We regret any civilian deaths but those lay entirely at Hamas' door," Netanyahu told ABC News chief anchor George Stephanopoulos on "This Week" Sunday. "Hamas is deliberately targeting our civilians; they've fired 2,000 rockets, 2,000 rockets at Israel cities. Seventy-five percent of our population has to be in bomb shelter alert of 60 seconds or 90 seconds. They're digging these terror tunnels from Gaza, from homes in Gaza to penetrate and infiltrate Israeli territory. They emerged and killed Israelis and run back or try and run back into their territory, so we've had to take actions.
"What Hamas is doing very cynically is embedding its rocketeers, its rocket cashes, its tunnels — these terror tunnels in homes, in hospitals, in schools, and when we take action, as targeted as we can, they then use their civilians as human shields," Netanyahu added. "So Hamas is both targeting civilians and Hamas is hiding behind civilians. That's a double war crime, and therefore all civilian deaths as regrettable as they are fall on their shoulders."
This is more than a joke; it is an offense to any one with moral principles, or a conscience. In fact, it is an outrageous. As human beings on this planet, we all have a responsible to leave the earth better than we found it for our progeny or simply put those who come after us. The American president has as much of the Palestinian blood on his hand as does Netanyahu. The man is a warmonger. Of course, President Obama can take solace in the fact that he is not the first or only American presidents who will indelibly carry the blood of innocent Palestinians on his hands if he continues to go along with the mass murder in Gaza at the hand of Israel. Those hypocrites seem to believe that just calling every single Palestinian leader a terrorist will somehow absolve them of their duty to treat the people of Palestine with human dignity. Palestinians have the same right to life, liberty, and the pursuit of happiness as citizens of every other country. This sort of callous and wanton leadership is no more dignified or legitimate than that of the Taliban in Afghanistan, or the so-called militants in Iraq. Since 1955, the United Nations has passed 77 resolutions condemning Israel's actions in the Middle East. Israel has ignored every one of those resolutions, yet the United States has continued to support all of Israel's aggression and unspeakable acts against the Palestinian population. While the U.S. and Israel would have the world believes otherwise, it is, for the most part, Israel that torpedoed every peace talk initiative since the Camp David Accords by Egyptian President Anwar El Sadat and Israeli Prime Minister Menachem Begin in 1978 under U.S. President Jimmy Carter. It was Israel that continued to build settlements while peace negotiations were taking place, and in so doing, the Israeli government annexed or brazenly took over more than half of the West Bank while peace talks were on-going. Anyone who listens and accepts Netanyahu's excuses and non-sense for killing more Palestinians is a fool and an accomplice to murder.
a01a10229e49271d5b1acb16d0b55f81e5db59a031596d786c
Categories: Foreign Policy/ War / Diplomacy
/